Long before the summer days kicked in (the best summer the UK has had in years it must be said!), we ran a competition to design a monster for the new game 'Fun With Words'.
We received a whopping 500 monster entries to the competition, and after some hard deliberation by our judges, it was decided that the monster 'Garbage' drawn by Tanzina (age 10) would be featured in the new game.
Here's Tanzina's drawing next to the finished 'Garbage', illustrated by the fantastic Rich Wake. Wow! This monster can now be made by adding all these various body parts together at the beginning of the game.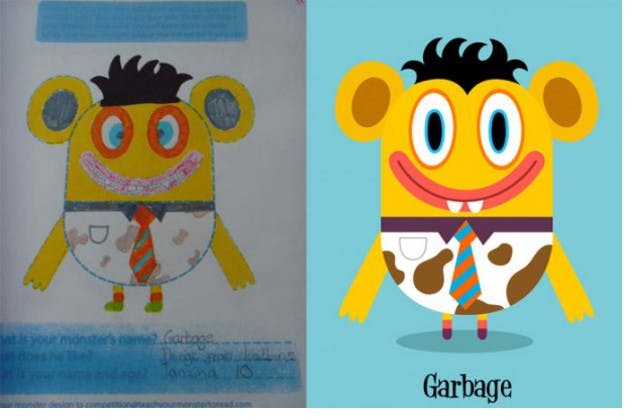 Here's a short time-lapse video of Rich bringing the monster to life. It's fun to see the monster take shape!
Runner-up news!
Our competition runner-up Devlon has also been busy. Devlon created the brilliant monster Ogo (one of my personal favourites).
Here's what Devlon said about the competition:
"I am really proud to be a runner up. My friend helped me to choose the books and Mrs Stephens (The Head Teacher) was really pleased as we need books for our new library. I can't wait to play the new game!"
Here's Devlon with Ogo and with his friend Angus – reading their winning books! Hooray!
To view all our amazing competition monsters then take a look at 'The Monster Gallery" on Flickr.
We'll be launching a new competition next week – just in time for Halloween. Watch this space!