The 2014 BETT Awards winners will be announced next month so we thought it would be a good time to take a look at the free teaching resources, tools and apps that have been nominated in the Free Digital Content / Open Education Resources category.
Cambridge University Press, OCR and Raspberry Pi – Cambridge GCSE Computing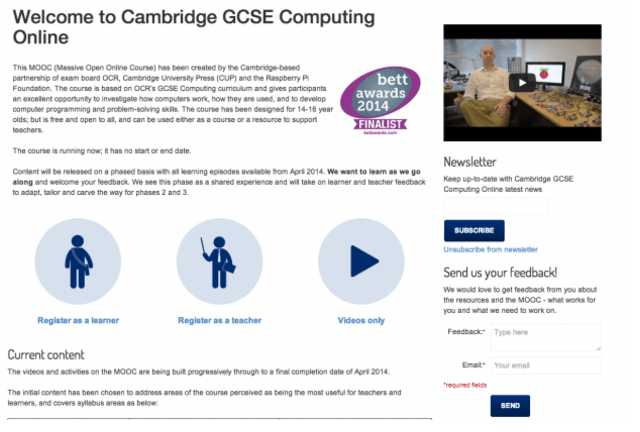 This is a massive open online course (MOOC) created by the Cambridge-based partnership of exam board OCR, Cambridge University Press (CUP) and the Raspberry Pi Foundation.
The course is based on OCR's GCSE Computing curriculum and teaches students to understand how computers work, how they are used, and to develop computer programming and problem-solving skills. The course is open to everyone without any start or finish date and can be used as a computer science teaching resource.
If you haven't heard of Raspberry Pi before then take a look at their site. Raspberry Pi is an affordable, credit-card-sized computer developed to teach and promote computer science in schools. It can be plugged into a TV and keyboard and it's aim it to make computer programming accessible to children.
It's really worth checking out if you have children interested in programming. www.raspberrypi.org
Edmodo, Inc
Edmodo is a social learning platform for teachers, students, and parents. Teachers and students can assign and submit coursework, discuss class assignments, collaborate in groups, talk to teachers and share ideas and resources. It's basically a Facebook for schools and would almost certainly make communicating with students (and teachers) easier and more efficient.
www.edmodo.com
Microsoft – Kodu
This free tool is for designing and creating online games. It enables students to make computer games using visual programming tools, without needing to understand code. Students can create different worlds and characters and learn about narrative, story-telling, problem solving. It can be used on a PC and Xbox.
Royal Society of Chemistry – Learn Chemistry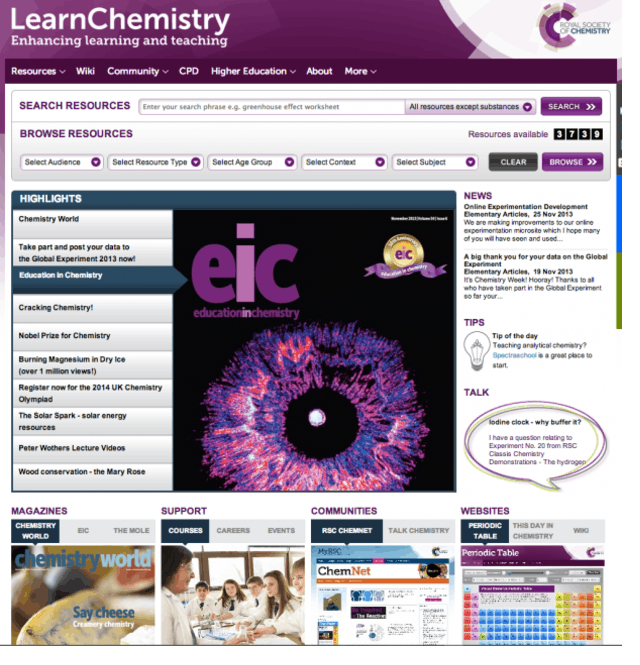 Learn Chemistry is a rich online resource for teachers and students of chemistry. It's a valuable free resource for all ages – from Primary to HE. It includes a searchable database of worksheets, handouts, chemistry demonstrations and interactive assessments. It has a collaborative Wiki page, forum and CPD pages to help connect, share and expand your chemistry knowledge. This is THE place to go for anyone learning or teaching chemistry. Inspiring stuff!
www.rsc.org/learn-chemistry
Makewaves – Makewaves App
Makewaves is the social learning environment that provides social media for education. It enables schools to create and safely share videos, podcasts and blogs.
The Makewaves app launched last year and it provides a way for students to create stories, videos and blog posts on the go within the safe and accessible Makewaves environment. Teacher's can also add additional tools to the app so they can approve work and mark students while outside the classroom.
TTS Group – Bee-Bot App
CTCV Ltd – www.truetube.co.uk
True Tube is an invaluable free resource for RE, PSHE and Citizenship at Key Stages 3 and 4. It offers access to videos, assembly scripts and lesson plans for these subjects.
As one teacher has said "TrueTube… presents a reliable replacement for some resources that paint an out of date picture of society today." Andrea Keightley
It's a well designed website with access to the key topics and themes within this subject area. TrueTube was the well deserved winner of the 2013 BETT Award.
www.truetube.co.uk
It's going to be a tough call for the judges this year as there's a number of excellent free tools out there! My bets are on Cambridge University Press, OCR and Raspberry Pi for Cambridge GCSE Computing but lets see for ourselves in January!
Good luck to all the finalists!